Launch your new career with the best college in cybersecurity.
Earn a cybersecurity certificate from the most recognized college in the cybersecurity industry. As you complete the program, you'll earn certifications that prove you've got the skillset employers want right now.
93%
93% of our graduates gained employment in cybersecurity within 6 months.
$91K
The average starting salary of our graduates is $91K.
500K+
More than 500,000 job openings in cybersecurity are unfilled. (Source: cyberseek.org)
New to the field? No problem.
Our undergraduate certificate program is for anyone with college credits who wants to join the growing cyber workforce — whether you're about to finish your associate degree, you're in a 4-year college program or a theory-based master's degree program, or you're a mid-career professional who wants to transition into cybersecurity.
How It Works
Start when you want to.
We don't have fixed semesters, so you can apply any month and start a few months later.
Take one class at a time.
The program consists of 4 courses you'll take one at a time, with personalized support from a student advisor from start to finish.
Complete the certificate at your pace.
Earn your undergraduate cybersecurity certificate in 10 to 18 months while working full-time or pursuing a degree.
Earn 4 professional GIAC certifications.
As part of our program, you will earn 4 of the most highly regarded certifications in cybersecurity.
Get career services for life.
Our Career Center will help you choose a career path, build your resume, prepare for interviews, and land a job or advance your current career.
Our Grads Get Hired
Our graduates get hired for cybersecurity positions by companies like Amazon, Deloitte, Dragos, Google, Northrup Grumman, Red Canary, Wells Fargo and Walmart. More than half our students received their first cybersecurity job offer before they finished the program.
Job Titles Earned
| | |
| --- | --- |
| SOC Analyst | Cyber Threat Intel Associate |
| Information Security Analyst | Security Engineer |
| Security Consultant | Cyber Software Engineer |
| Penetration Tester | Detection & Response Analyst |
| Incident Handler | Cyber Risk Consultant |
| Intrusion Analyst | Cybersecurity Specialist |
| InfoSec Specialist | Security Administrator |
| Forensics Examiner | Vulnerability Management Engineer |
| Incident Response Team | |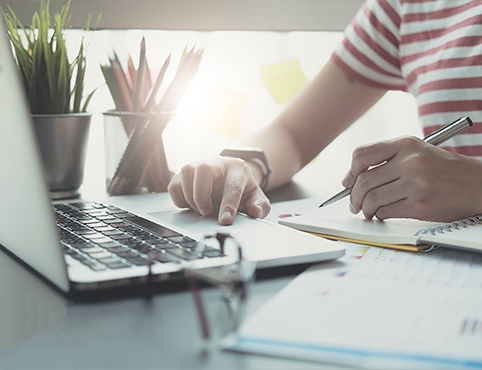 What makes someone good at cybersecurity?
You don't need a background with computers to succeed. In fact, some of our most successful students didn't. As part of our admissions process, you'll take a 2-hour quiz that tests your natural ability to succeed in cybersecurity. If you like solving puzzles and have a desire to learn about technology, cybersecurity could be a great fit for you.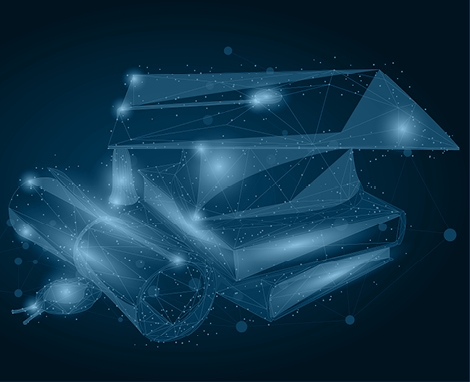 Tuition
Total Program Cost: $17,875
Tuition includes the cost of the course, textbooks, and certification tests that serve as exams for courses.
If you've taken a SANS course and passed the corresponding GIAC certification, for example SANS SEC275 and the GFACT certification, you may be able to waive one course into this program. See our waiver policy.
Funding Options
A degree or certificate from SANS.edu is a great investment in your career. We offer a variety of tuition options to make that investment accessible.
Students pay tuition per course which allows you the financial flexibility to pay smaller amounts as you go.
Students in our undergraduate programs who are qualified for our Income Share Agreement (ISA) only pay tuition after they have finished the program and are employed.
Learn More
Because we are regionally accredited, our tuition is eligible for most corporate or employer tuition assistance programs.
If you'd like to use a SANS Universal Voucher Account, confirm with your voucher administrator that course tuition is an eligible expense.
Ontario Student Assistance Program
SANS.edu programs are eligible for the Ontario Student Assistance Program (OSAP) a financial aid program for residents of Ontario, Canada.
Visit the OSAP Website
Get More Info
Discover how the SANS Technology Institute can help you launch your cybersecurity career. Complete this form and we'll send you additional information, invitations to upcoming online info sessions, and updates.
Loading...
About the SANS Technology Institute
Founded in 2005, the SANS Technology Institute (SANS.edu) is the independent, regionally-accredited, VA-approved subsidiary of SANS, the world's largest and most trusted provider of cybersecurity training, certification, and research. Offering undergraduate and graduate programs at the cutting edge of cybersecurity, SANS.edu is strengthening the cyber workforce through a career-focused curriculum built on proven SANS courses and industry-recognized GIAC certifications.
The SANS Technology Institute is accredited by The Middle States Commission on Higher Education (3624 Market Street, Philadelphia, PA 19104 - 267.284.5000), an institutional accrediting agency recognized by the U.S. Secretary of Education and the Council for Higher Education Accreditation.