The Best Undergraduate and Graduate Programs in Cybersecurity
Congratulations, SANS.edu Sentinels!
Students from the SANS Technology Institute topped the leaderboard in every category of the spring 2022 National Cyber League (NCL) competition, earning top rankings for #1 Individual Player, #1 Team and #1 Cyber Power Ranking.
What's more, 4 SANS.edu teams made the top 10. Eight teams made the top 100 out of more than 1,000 teams. Learn more about the SANS.edu teams that finished in first place, third place, fifth place, and ninth place.
A huge congratulations to all of the SANS.edu Sentinels teams. We're so proud of all of you!
The SANS.edu Advantage
GIAC Certifications
Earn professional certifications employers recognize and respect in each of our programs.
World-class Faculty
Learn the latest skills and techniques from the world's top cybersecurity practitioners.
100% Online Option
You have the option of completing our programs through live or rewindable online courses.
Flexible Schedule
Our programs are designed to fit into your busy life and work schedule.
Powerful Network
Make connections with some of the most talented students and teachers in the industry.
Learn from the Best
SANS Technology Institute faculty members are rock stars of the cybersecurity field, with a broad base of expertise in government and industry. Their up-to-date examples and deep knowledge ensure that what you learn in class will be useful immediately on the job.
100%
Every member of the SANS.edu faculty is a highly skilled professional currently working in cybersecurity.
150+
More than 150 open source cybersecurity tools have been created by SANS Faculty.
40+
SANS faculty members have authored more than 40 books on information security.
3.5K+
SANS faculty members have produced more than 3,500 research papers and webcasts on information security topics.
Course Delivery Options
Our most flexible option gives you 24/7 access to online courses recorded by top cybersecurity practitioners. You can rewind and repeat content, including hands-on labs, quizzes, and exercises.
Study from home — and save on travel and lodging expenses — through live, interactive scheduled online courses with SANS instructors and hands-on labs in a virtual environment.
Immersive weeklong courses with hands-on labs are held across the country and around the world throughout the year. Meet fellow students and instructors and have the chance to attend special events, NetWars, vendor presentations, and more.
Success Stories
The SANS Technology Institute prepares some of the brightest minds in cybersecurity for lasting careers that make a meaningful difference. See why these students chose SANS.edu for their cybersecurity education and what they're up to now.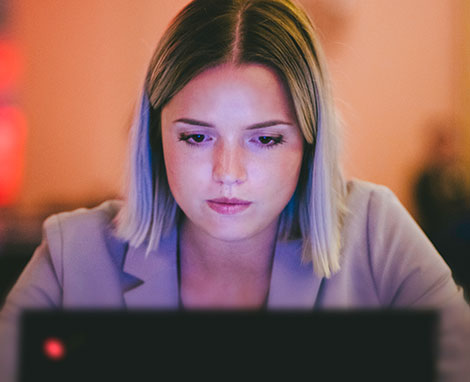 Take Your Next Step
Need more information? We're happy to answer your questions. Join us for an info session, email info@sans.edu or call 301.241.7665.
Ready to apply? We look forward to learning about you and your cybersecurity career goals.
Our Grads Get Hired
Our alumni work for organizations large and small, including Fortune 500 companies, military and government organizations, and leading cybersecurity firms. Here are just a few.
| | | |
| --- | --- | --- |
| Adobe | Discover Financial Services | Northrop Grumman |
| Akamai | Epic | OpenSecurity |
| Amazon | Expel | Oracle |
| Apple Inc | EY | PwC |
| Artic Wolf Networks | Facebook | Raytheon |
| Bank of America | FireEye | Red Canary |
| Blizzard Entertainment | IBM | Rendition Infosec |
| Boeing | Jigsaw Google | RSA |
| Booz Allen Hamilton | JHU/APL | SAIC |
| Capital One | JPMorgan Chase | Salesforce |
| Cisco | KBR | Sandia National Laboratories |
| Coalfire | Mantech | SixGen |
| Coretelligent | Mastercard | Symantec |
| CrowdStrike | Microsoft | Verizon |
| Deloitte | MITRE | Walmart |
| Dragos | NIST | Wells Fargo Bank |
Student Reviews
The decision to choose a master's degree from SANS.edu was the best one I have ever made. This transformed me into a true cybersecurity professional.
SANS.edu made the difference between my being an unemployed college graduate and a well-compensated cyber professional.
SANS gives you both the technical knowledge and the soft skills to persuade and convince an audience. It offers the highest quality technical security training on the planet.